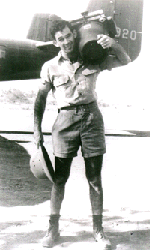 Fraley Studio was started in Townsville as a general portrait and commercial studio by my father, Arch Fraley in December 1949, after our return from the USA where he was demobilised after World War II. Arch was based in Townsville and Charters Towers during the war and served as photographer/waist gunner in the 5th Bomber Group USAAF. He met and married Lorainne Robinson in Charters Towers. I was born in Charters Towers in 1944 and, with my mother, travelled to the USA after the war. Some of my father's wartime photos are on display at the Townsville Airport and at several War Museums around the North.
Over the years, many school photographers based outside Townsville have come into the City with grand promises, and departed after a season or two.
Through all this, my fathers family, and now my family has continued to supply good quality product at a reasonable price. If there is ever a problem we are here and address it promptly, all profits stay in this area. We live in the North and are proud to say it. In a few more years time we will have been established here for 60 years. No other photographer can lay claim to that.